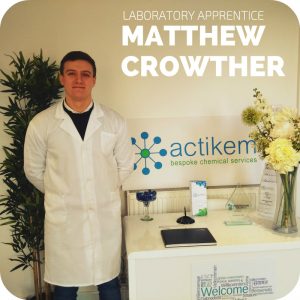 Matthew Crowther has joined the laboratory team at Actikem, doing a three-year higher apprenticeship in Laboratory Operations. Recruited with the assistance of Warrington & Co and the Royal Society of Chemistry, this apprenticeship demonstrates Actikem's commitment to offering STEM employment to young people.
The apprenticeship is also sponsored by the Royal Society of Chemistry, through its EnterprisePlus service. Andrew Mooney said, "EnterprisePlus is a dedicated service for micro, small and medium-sized companies, which provides tools to help promote our business, recruit the right people and find the connections, opportunities and resources we need to grow."
As well as gaining access to a network of other chemical apprentices (both undergraduates and graduates) through Actikem's membership of the RSC, the RSC have also provided     financial assistance to help Actikem develop Matthew's skills and competences.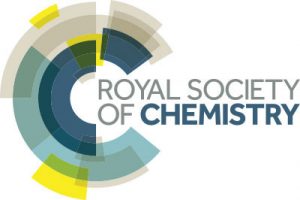 The apprenticeship comes at the right time for Actikem, with regards to succession planning, as their aim is to develop a talent pool within the organisation who can develop and grow with the business.
If you are interested in any work experience opportunities at Actikem, please contact audrey.mooney@actikem.com.